It's not important whether you are a fan of meat or fish, whether rich meal, a tasty snack or just enjoy the atmosphere with the occasional spicy bite and sip fine wine, the menu of Makina will find something to your liking. Every day we offer over fifty different fish and meat dishes. Pasta, risotto and pizza, to the widely famous Peka 'Makina' in which all the flavors and aromas of traditional Dalmatian cuisine are mixed.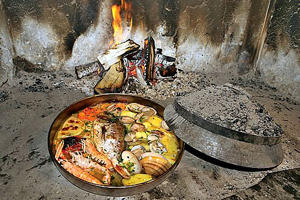 The house specialty – Peka 'Makina'
Peka has always towered above all other kinds of cooking. Peka in these parts always represented "more than a meal." Peka is a true experience of Dalmatia, the smell of fireplaces and connection with our elderly. Whether on a spit bread, cook, veal or seafood, each meal with peka turns into a feast.
A unique culinary experience that combines scents of fireplace, Dalmatian hinterland and fresh fruits of the Adriatic Sea. Clams, shrimp and quality fish prepared in this way transformed into a feast to remember.
We recommend:
Cold appetizers

salted anchovies in olive oil, various types of pate, octopus carpaccio, monkfish and steak, mozzarella with tomato and cold platter 'machines' as the specialty of the house …

Hot appetizers

pasta and risotto with shrimp, cheese, vegetables and seafood, fried monkfish, scallopsof st. James…

Meat specialties

grilled meat, steak, steak in various ways; in gorgonzola sauce, prosciutto and sage, pepper and rolled stuffed veal and dishes of chicken and turkey meat

Fish specialties

fish and grilled calamari with attachments, monkfish in white wine, shrimp and lobster in various ways, fresh mussels, rovanice, oysters, homes, kaparocule …

Deserts

along with a large selection of side dishes, soups, salads and desserts, there is nothing left but to – wish you a good appetite!